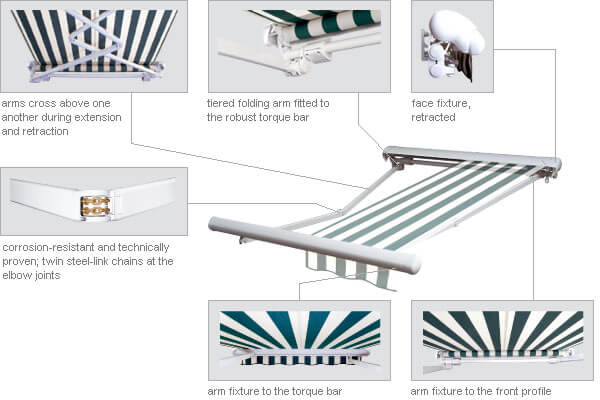 Balcony & Patio Awnings
The perfect solution for narrow patios, niches and balconies.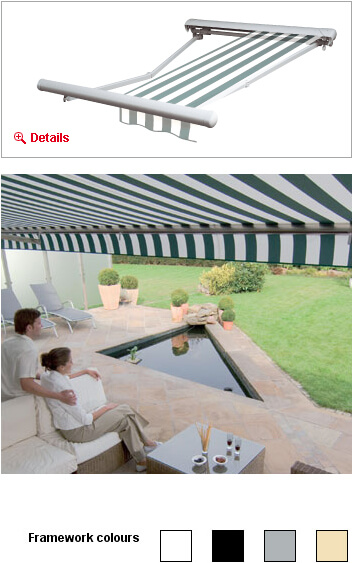 design features
Shaped by well-known designers, given the IF Design Award for excellent design.
Semi-cassette folding-arm awning. The dynamically rounded coverboard gives the awning the appearance of being fully cassetted.
The possibility of mixing and matching the colour of the cassette with that of the end caps make your markilux a personally individual awning.
Elegant and robust front profile with valance slot made of aluminium.
For longlasting beauty: the awning is powder coated.
technical highlights
Sturdy, round steel torque bar, 50 mm Ø, to prevent twist and deflection.
The 85 mm roller tube ensures the highest rigidity and the best possible cover winding characteristics even at the largest widths.
Coverboard with integrated brush so that larger pieces of debris cannot be drawn into the awning.
Folding arms with perfected power transference by means of double rounded steel-link chains and direct coupling of the springs. High security even in the case of large arm lengths.
Folding arms with drop-forged aluminium moving components and Teflon-coated bronze bushes, which provide superior robustness and longevity.
accessories
In the case of manual operation ease of use is ensured with the springassisted gearbox.
Standard motor drive (optionally with automatic controls) for simple, relaxed operation.
Radio-controlled motor with handheld transmitter for ease of operation – and ergonomically crafted for ease of use..
The shadeplus creates an additional room on the patio. Protection from the sun, the wind and inquisitive glances all in one.
Awning also available in non-standard RAL colours.
Special Equipment
Markilux Heater
Sun & Wind Sensor
Motor drives and remote control operation
Shadeplus