Authorised Luxaflex Awnings Distributor

The LUXAFLEX® SUNRAIN® Awning provides protection from the elements – rain or shine.
With its unique double pitch design,
water runs off the smooth PVC fabric and drains out both sides of the custom drainage front rail. Available in a variety of
hardware colours and fabric options to enhance the style of any home. With a variety of accessories, the LUXAFLEX® SUNRAIN®
Awning provides a range of options to suit your needs.
Features & Benefits
Designed and engineered in Germany the LUXAFLEX® SUNRAIN®1 Awning offers a great contemporary look and simple functionality to provide ease of use.

The unique double pitch design provides the perfect angle for rain Drainage and also additional Sun protection due to the lower pitched front bar.

The custom middle stringer not only offers extra support for the folding arms but also pushes the fabric up reducing fabric bagging and ensuring water run off.

Pitch can be varied from 5 degrees to 45 degrees to suit your sun and rain control needs

The front rail provides excellent drainage for
water run off from either side of the awning, to keep the area beneath dry.
Quality
All LUXAFLEX® SUNRAIN® hardware components are manufactured from high grade aluminium at an ISO 9001 accredited company.
There are quality control points throughout the casting process to ensure no defects on finished componentry.
Accessories
The LUXAFLEX® SUNRAIN®1 Awning offers a great range of accessories allowing you to customise your awning for the specific
requirements.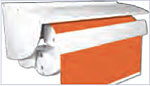 Rain Hood
This sleek and modern solid aluminium rain hood provides excellent protection for fabric when the
awning is retracted. Additionally it mounts flush against a flat wall surface ensuring no water run
off behind the awning's mounting point. Available in all standard and special hardware colours.
(Only available on wall fix installations).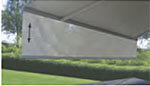 Variable Valance
The Variable Valance option allows the user to control the height for the retractable valance for additional privacy
or shade control. The variable valance can also double as a straight drop product even when the LUXAFLEX®
SUNRAIN® Awning is fully retracted allowing privacy and heat control for windows too. Available in either Crank
or Motorised RTS control. (Please refer to the limitations section for further details on valance drop).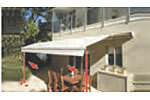 Wind Protect System (WPS)
With the custom Wind Protect System installed the LUXAFLEX® SUNRAIN®1 Awning can withstand significantly
higher wind forces. By stabilising the front bar less strain is put on the hardware therefore extending the awning's
life. With detachable feet and front rail connector the telescopic square poles collapse for easy storage when not
in use. Available for heights between 2 – 2.5m from ground to front rail. (Please see installation instructions for
wind force ratings).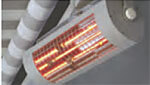 Infra-Red Heating
This option provides the ultimate in Folding Arm Awning luxury. By heating bodies and objects instead of air, this heater system economically provides warmth and ambience for those sitting beneath. Available in Pure White and White Aluminium these systems discreetly mount to the square bar of your LUXAFLEX® SUNRAIN® Awning and
provides flexibility of heat focus. This accessory is only available with RTS remote control.